Approximate prices for rental of popular models of cars
In order to see the daily average cost of a car, select a model from the list.
In addition, the price depends on the point where you are planning to pick up the car. Pay attention to this to make the trip more advantageous.
Refuel in Porto with what, where, and how much it costs
Use navigator's tips to plan the amount of fuel and route. Cars-scanner also advises you to always carry a small fuel canister so that the empty tank does not catch you out a long way from the nearest petrol stations. Approximate prices for fuel:

Gasoline – 1,57 EUR;
Diesel – 1,35 EUR;
Get insured and enjoy tour travel
To travel calmly and to not to think about possible damage to the car, take out a full insurance policy; in this case, any difficulties with the car cease to be your concern and fall on the shoulders of an insurance company.
Carefully read the insurance document; therein, you will find information about what it covers, and how to proceed if an occurrence happens after all.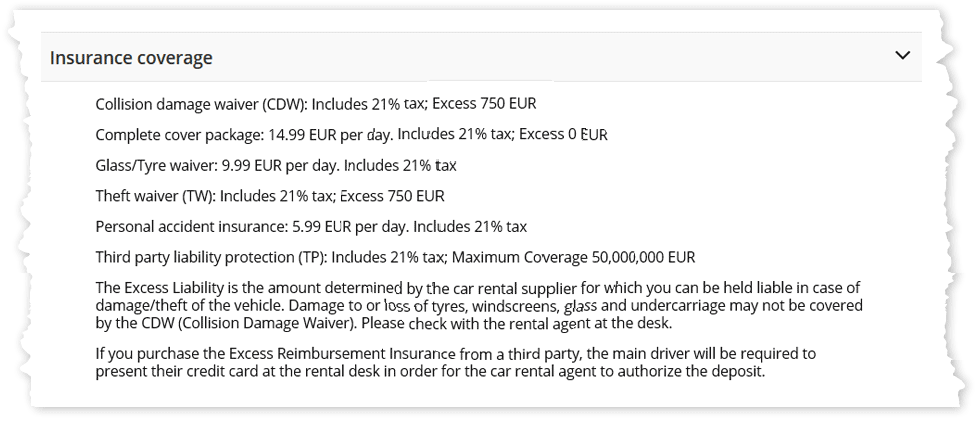 Upon receipt of a car, a security deposit will be locked on your card, which is automatically unlocked after the car returns. Below, there is a table with the approximate amount of deposit at popular car rental companies.
Car rental company
Car class
Apx. Deposit amount
Mini / Economy
200-400 £
Compact / Standard
400-800 £
Fullsize / Premium
700+ £
Mini / Economy / Compact
150-500 £
Standard / Estate
300-700 £
Fullsize / Premium / SUV
700+ £
Mini / Economy
250-500 £
Standard / Estate
300-750 £
Fullsize / Premium / Minivan
600+ £
Economy
200-600 £
Compact / Standard / Estate
300-700 £
Fullsize / Premium / Cabrio
550+ £
Mini / Economy
250-600 £
Compact / Standard
400-900 £
Fullsize / Premium
500+ £
Be careful on the road. Fines in Portugal are quite high.
The lion's share of fines, which are received by travellers who came to Porto, are superimposed on them for non-compliance with the traffic rules. Be attentive and law-abiding. And in order not to get a fine being a pedestrian, you should be aware of the most significant monetary punishments in the city:
excess of the permissible alcohol level 0,5 ppm - 250+ EUR;

speeding over 20 km/h - 60+ EUR; ;

speeding over 50 km/h - 120+ EUR; ;

Red Light Violation - 120+ EUR;

Parked in a forbidden place - 30+ EUR;

Using mobile while driving - 120+ EUR.

All this time, we've been speaking how to make the most of your trip budget. Now let's talk about how to avoid unexpected expenditures, for example, fines. Most of them can be avoided by following generally adopted rules of conduct, law-abiding behaviour, sticking to street cleanliness, and public order. However, be attentive to various warning signs on the streets and buildings, therefore, avoiding having lunch in the wrong place or accidentally entering a restricted area.
Rental points on the map
Do not waste your time searching for a rental point of your operator, where you may pick up or hand over the car; we took care of you and plotted them on the special map.
Age. Restrictions and extra charges
If you are a driver aged 25 to 65, consider yourself lucky. As a rule, it is this renter's age that establishes the strongest trust at a provider's office and is will result in your being charged at basic rates. Drivers under 25 and over 65 are often forced to pay an extra charge, whether there is an increasing factor and to what extent, you may find out on our website in the Age Restrictions section.
Conditions for cancellation/modification of booking
You may find the cancellation form on our website. Standard conditions provides the following cancellation rules:
24 hours free cancellation before the start of the rental time
50 EUR charge for cancellation less than 24 hours
The total rental price is to be paid when you attempt to cancel from the time of the rental start.
Please note that some special offers may change the cancellation policy; carefully read the terms and conditions to plan your vacation well.
Speed limitations
All the rumours that travelling across Porto by car are over exaggerated. Of course, there are difficulties with parking, but everything is solvable, moreover, the quality of the road surface is excellent. Plus there are minor traffic jams, and quite reasonable speed limits. Particularities:
within the city area - 50 km/h;
on bypass roads - 90 km/h;
on main roads - 100 km/h;
on the motorway - 120 km/h.

Carefully follow the information on the road signs; sometimes the allowed speed is reduced for some local reasons.